What is Pedestrian Monitoring, and how does it work?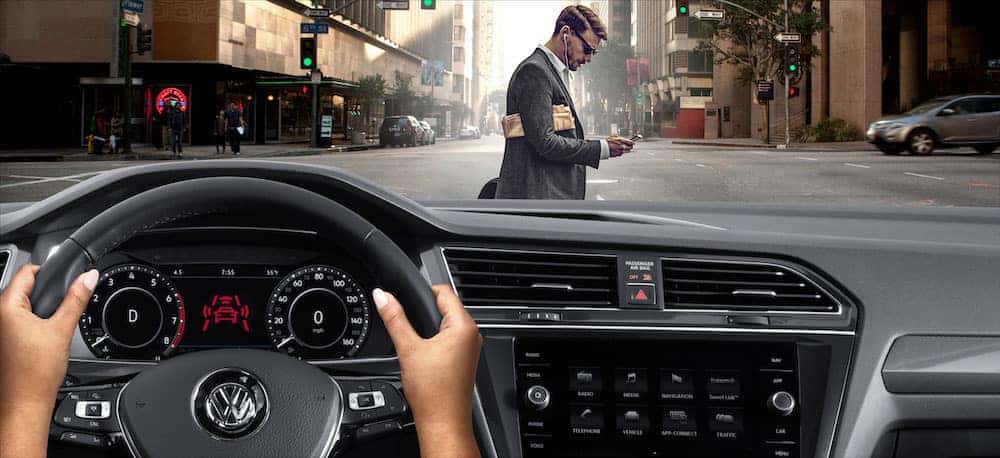 If you've been even casually researching a Volkswagen, you've probably seen "Pedestrian Monitoring" mentioned as one of its safety features. People often ask us what exactly this means, so we'll explain here.
Like its name, "Pedestrian Monitoring" does, indeed, monitor for pedestrians. But it's so much more than that. As part of our Front Assist safety system, this technology acts as an extra pair of "eyes" that helps drivers stay aware of other road users, whether it's a careless person crossing the street looking down at their phone, or a kid not looking both ways.
How Pedestrian Monitoring Works
Hidden discreetly behind the Volkswagen emblem on the front of the vehicle is a small, square radar device. Regardless of whether it's day or night, the radar actively sweeps points within about 35 degrees and up to about 400 feet ahead of the vehicle hundreds of times a minute. The system analyzes the data from the radar and is able to detect for the specific "signature" of pedestrians that are about to cross in front of the vehicle or walking away from the vehicle inside its path. 
If a pedestrian is detected and the car is traveling between around 4 and 19 mph, it applies automatic braking to slow or stop itself to help avoid a collision, using the precise amount of breaking needed. If the vehicle is going between about 19 and 40 mph, the Pedestrian Monitoring system alerts the driver with both audible and visual alerts to respond. If the driver doesn't respond, it then engages automatic braking. The system does not, however, operate at speeds above 40 mph.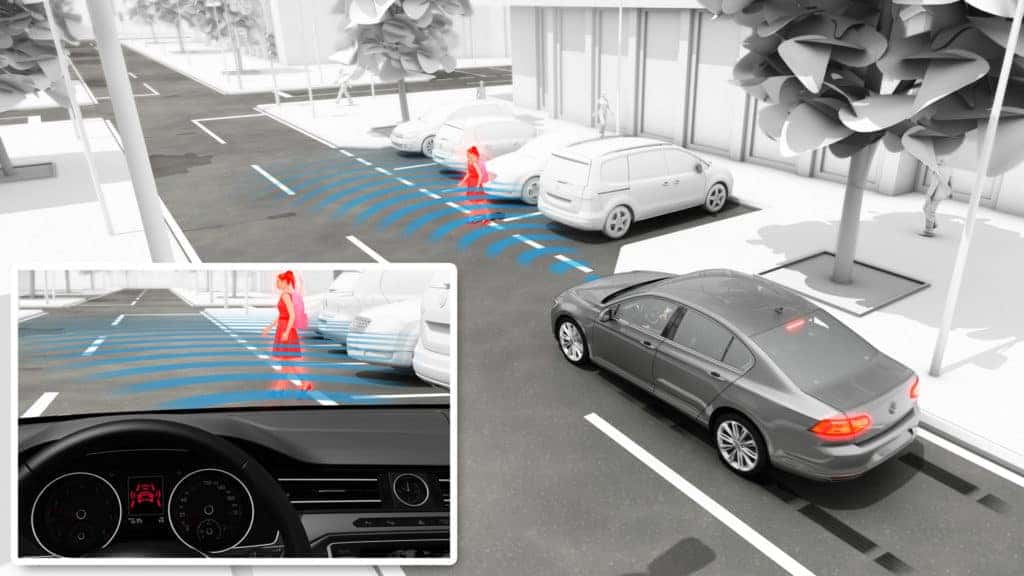 As of right now, Front Assist with Pedestrian Monitoring is available on all 2019 Volkswagen models except the Beetle, Jetta, and Passat. It is standard on the Arteon, Atlas, Golf, Golf R, Golf Alltrack, and on all but the base trim levels of other models. Front Assist and autonomous emergency braking (AEB) are expected to be standard on nearly all Volkswagen models by 2022.
While this is an incredible safety feature, there are situations where it may not work, such as if the radar sensor's vision is blocked by dirt or snow. It's important to keep the front of your vehicle wiped down and clear in those conditions, anyway, but do be extra aware of this. Overall, however, Pedestrian Monitoring technology can offer improved awareness of pedestrians in conditions like fog or if there's a harsh sun glare in the driver's eyes, where vision might be more difficult. 
At Bud Brown Volkswagen, we know that safety is your number one priority, which is why we're proud to offer vehicles with Pedestrian Monitoring. It's a small, hidden feature in the Front Assist system with a very important role — it can save lives. Stop in and take a drive or two if you'd like to test out this feature for yourself. We're happy to show you all the amazing things that Volkswagen has to offer!