Ever wonder about the plaid interior of the Golf GTI? They're because of one woman — Meet Gunhild Liljequist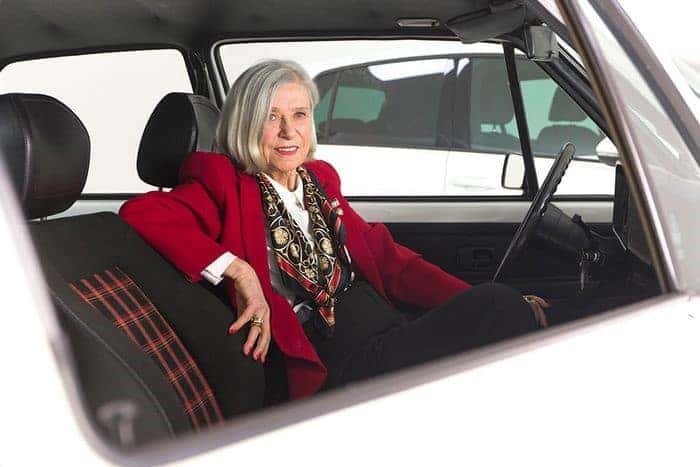 If you've ever been in a Volkswagen Golf GTI, you may have noticed the interior looks much different from that of any other vehicle. Notably, the plaid upholstery and the golf ball gear knob. 
But why is the interior of the Golf GTI different? How did it come to be that way? 
You can thank one woman — Gunhild Liljequist. While she had been a porcelain painter and chocolatier candy-box designer by trade, she was hired in 1964 by Volkswagen Germany's Department of Fabrics and Colors. Since her hire at the impressionable young age of 28, Liljequist's contributions to the legacy of the Golf GTI and other aesthetic aspects of vehicles have become timeless.
While the overall looks of the Golf GTI were not unlike the "regular" Golf, these two standout features — the plaid upholstery and the golf ball-style gear knob — helped the GTI debut as a worldwide sensation in 1976. So where did these ideas come from?
"Black was sporty, but I also wanted color and quality," Liljequist said. "I took a lot of inspiration from my travels around Great Britain and I was always taken by high-quality fabrics with checked patterns … you could say that there is an element of British sportiness in the GTI."
And the golf ball gear knob, she says, came totally out of the blue.
"That was a completely spontaneous idea!" Liljequist said. "I just expressed my sporting and golf associations out loud: 'how about a golf ball as the gear knob?'"
While at first, these unconventional elements were unwelcome by some, the golf ball knob and the seat pattern (now known as "Clark Plaid") are so synonymous with the Golf GTI it's hard to imagine one without them. 
Liljequist's contributions to automotive fashion were not limited to just those two things, however. Throughout her 30-year career at Volkswagen, she influenced some of the brand's most iconic pain hues, trims, and interiors, while designing some special models of her own. Beyond the Golf GTI, she was responsible for the design of the 1987 limited edition "Etienne Aigner" Mk1 Golf Cabriolet — inspired by the luxury designer of handbags and other accessories. 
But her influence was definitely not limited to Volkswagen — in fact, you can see one of her most widely-adopted additions on nearly every vehicle on the road. While experimenting in paint and coloring, she created an iridescent pearl color that she applied to a car's surface. The result? The metallic quality of paint used on today's modern cars.
While Liljequist retired in 1991, her legacy shines (pun intended) on the entire automotive world, and literally stitched into the fabric of Volkswagen.
Gunhild Liljequist's influence on our vehicles is definitely worth checking out in person. Contact Bud Brown Volkswagen today to schedule a test drive, or just stop on in and we'll be happy to give you a front-row seat driving behind the wheel of a Golf GTI or any of our other models. We look forward to meeting you!