Take A Tour Of The 2020 Volkswagen Atlas Cross Sport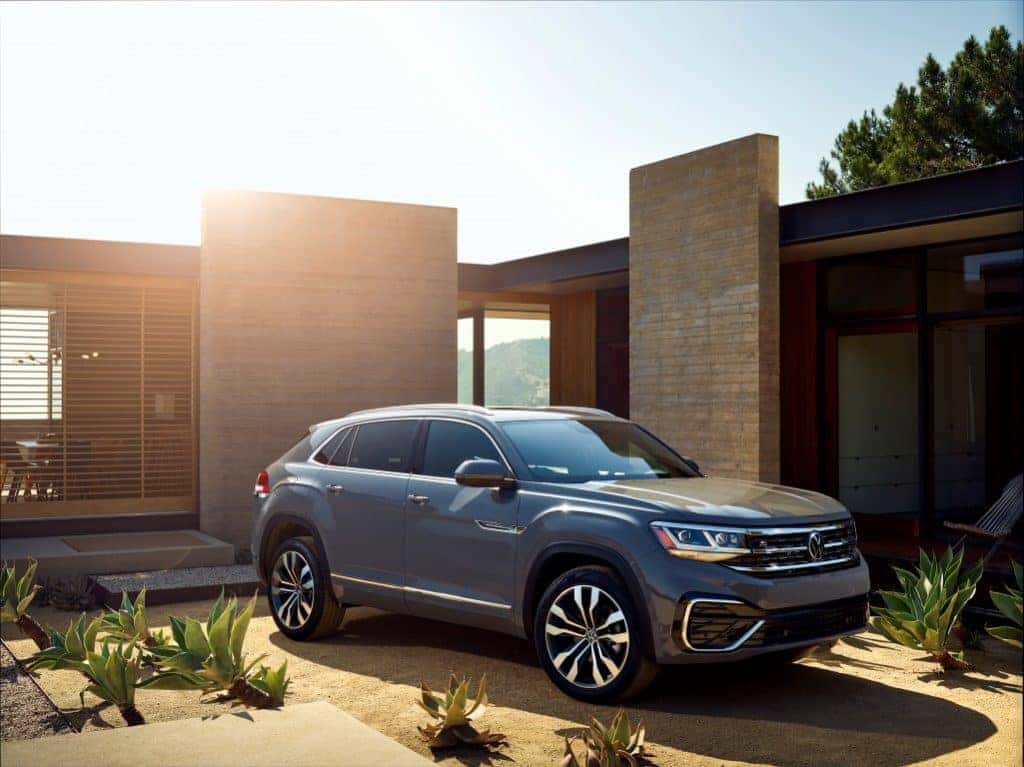 What makes the new 2020 Volkswagen Atlas Cross Sport a great vehicle?
It comes down to what the Atlas Cross Sport has to offer. By creating two versions of our popular Atlas SUV, the Atlas Cross Sport was designed to deliver all of the best features from its bigger sibling in a sportier package. Volkswagen did this by not just lowering the roofline and creating a sleeker profile, they wanted to offer more against its competitors.
For example, the Atlas Cross Sport has the best second-row legroom among its direct competitors. Up to three passengers will enjoy up to 40.4 inches of legroom, compared to the Jeep Grand Cherokee, Honda Passport, Chevrolet Equinox, and Blazer.
Cargo space is where the Volkswagen Atlas Cross Sport has the advantage. With the second-row seat up, you can pack up to 40.3 cubic feet of space. Drop the second row down, and it expands to 77.8 cubic feet. If you think about it, that's a lot of stuff to haul around when you're heading across town for essentials or to see your loved ones in Topeka or Jefferson City.
With the rear seat up, you will find that the Volkswagen Atlas Cross Sport has more to carry than the Chevrolet Blazer, Nissan Murano, Jeep Grand Cherokee, and the Ford Edge.
When your Volkswagen Atlas Cross Sport has the powerful V6 engine, you can tow up to 5,000 pounds. With that kind of capacity, you can tow a camping trailer of up to 19 feet or a utility trailer for small vehicles, such as boats, kayaks, canoes, and small vehicles. After all, these are outdoor activities you can do these days! Make sure you get the factory-installed tow hitch and 7-pin connector to make your towing experience safe and secure.
Hauling in a Volkswagen Atlas Cross Sport does not stop with just the rear of the vehicle. Up top, you can replace the standard roof rails with the Volkswagen Base Rails for greater strength and capacity. With these Base Rails, you can carry roof cargo boxes, bicycles, kayaks, and canoes. With the latter, you can leave the trailer behind and strap them up safety for your outdoor activities.
As for everyone on board, the Atlas Cross Sport gives you 11 cupholders accessible to all seats! Each one can fit a specific bottle or cup from your favorite convenience store or drive-through restaurant. When you have to make an essential trip somewhere, you cannot afford to be thirsty.
Lastly, we all need to relax and enjoy some good music. That is why the Volkswagen Atlas Cross Sport offers the available Fender Premium Audio System. With 12 separate speakers positioned to create the best audio environment inside, you can enjoy everything from the music files off of your device to your favorite Kansas City radio station. With Car-Net connectivity, including the new Wi-Fi hotspot, your streaming choices have expanded for maximum listening pleasure.
These are just some of the great things that make the Volkswagen Atlas Cross Sport the best vehicle in its class for Kansas City. Bud Brown Volkswagen can make your buying or leasing experience a great one. Contact us for a test drive and it will be in your driveway or parking space before you know it.