Why Is The Volkswagen Atlas An All-American SUV?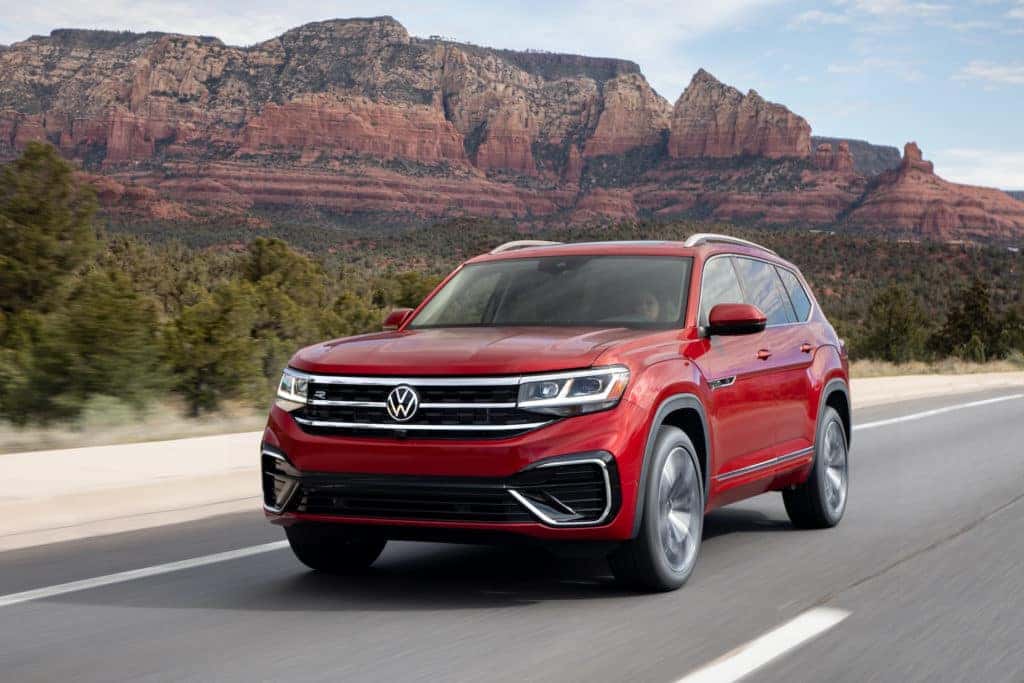 Volkswagen developed the Atlas as an American family SUV. It was not only developed with American's wants and needs in mind, but it is also built in Chattanooga, Tennessee.
What makes a Volkswagen Atlas a truly American family vehicle? Here are just a few reasons why…
1. American families need space. They need to seat seven. They need space for cargo – from shopping to children's activities to your family's vacation. The Volkswagen Atlas was developed to accommodate seven people standard. The interiors were also developed to be durable to handle stains from spilled drinks to pet hair to shifting grocery bags in the rear. Not to mention, you can configure the interior of the Atlas to handle everything to build your new work-from-home office or that homeschooling classroom.
2. The best way to deal with the potential of spilled drinks is to have a place for each of them. That is why every Atlas has 17 cupholders available throughout all three rows of seats. You can now have two drinks for each passenger and not have to worry about someone being thirsty on a long drive down the Kansas Turnpike.
3. You love having options. You may want something that another model might not have. The Volkswagen Atlas has plenty of trim levels to choose from for 2021. Just select the engine – a 235-horsepower 2.0-liter turbocharged TSI engine or the big 276-horsepower V6. Then select how many wheels you want driven – 4Motion is great when winter hits the Kansas City area. Now, select your trim level. Each one has a specific set of standard equipment – along with available features – that are made just for you. Not to mention a choice in looks from mellow to sporty.
4. Americans also love towing. Did you know that a Volkswagen Atlas with the V6 engine can tow up to 5,000 pounds? Got a project that needs a specific tool? You can tow it home. Have a camper you need to take to the Ozarks? You can do that, too.
5. Here's a test: Find your Atlas in a parking lot. I bet you can easily spot your Volkswagen Atlas in a sea of other similar SUVs. By being bold, the Atlas is distinctive. For 2021, you can spot your Atlas easily with its new front end and new Volkswagen logo. Give it a shot when Royals baseball restarts this season at Kauffman Stadium.
6. Did we mention that every Atlas sold in Kansas and Missouri is assembled in Chattanooga, Tennessee? That's as American as our famous barbeque!
7. Atlas is a powerful name. The namesake figure of ancient mythology held the world on his shoulders. Volkswagen knew that by creating a family SUV for Americans – assembled in Tennessee – it needed a name that goes along with the spirit of this country. A boldly designed vehicle with bold capabilities with a bold name – that's the Volkswagen Atlas.
Have you driven the 2021 Volkswagen Atlas? Bud Brown Volkswagen has plenty on hand for you to test drive. We can deliver one to your home for a test drive in your own neighborhood. Contact us and take home a truly American Volkswagen today!