2020 Golf GTI and Jetta GLI named to Car and Driver's "10Best" list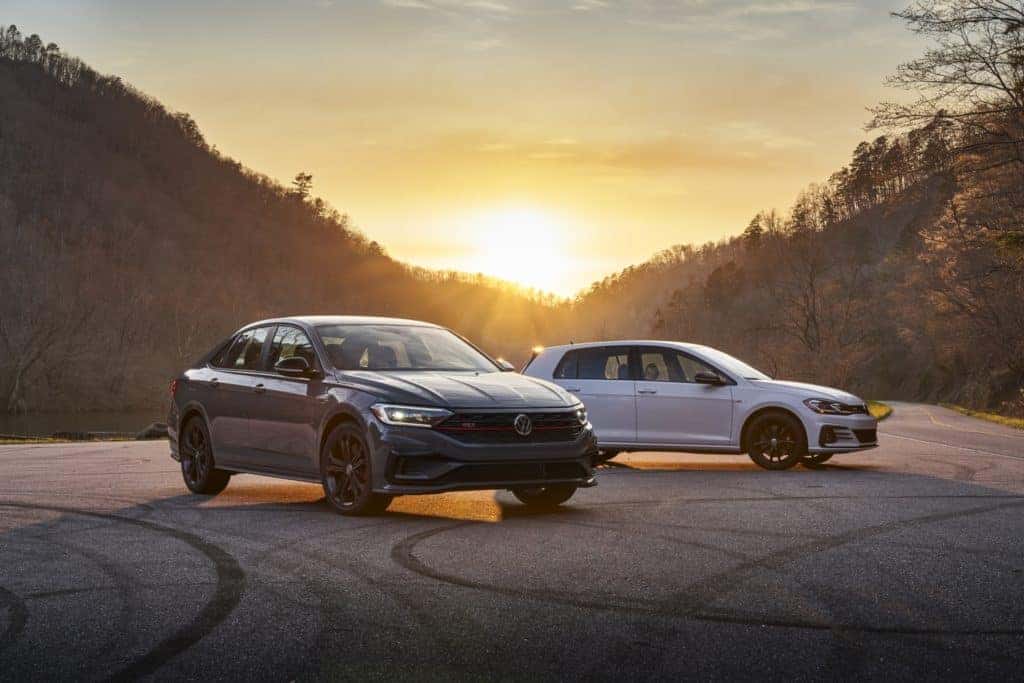 We're excited to share that both the 2020 Volkswagen Golf GTI and Jetta GLI were recently named to Car and Driver magazine's "10Best" list. This is the 14th year in a row that a Golf family model has been awarded this prestigious honor. That's an impressive track record for an impressive car!
The editors of Car and Driver were impressed with both vehicles this year. They said, "These VWs check every box and do everything well. They are affordable; they are efficient; they are spacious, fast, and fun. It's their unflinching sense of fun that makes these two so easy to love. They bring the same verve to a crosstown jaunt as they do to barreling into the braking zone."
The annual "10Best" list is exactly what it sounds like — a feature of the ten best vehicles of the year. They are judged on value, performance, overall ability to satisfy a consumer's driving needs.
Those nominated for the "10Best" list are all-new vehicles, 2019 "10Best" winners, those that were not available for the 2019 competition, and those with significant updates. This is the first year that the competition combined cars, trucks, and SUVs into a single event. All eligible vehicles for this list must fall under the base-MSRP limit of $90,000 and be on sale in January 2020.
"We are honored that Car and Driver has recognized two of our performance Volkswagen models as part of its '10Best' awards," said Scott Keogh, President and CEO, Volkswagen Group of America, Inc. "The GTI and GLI represent the best of what Volkswagen has to offer—stellar driving dynamics, high-tech features and outstanding quality at a value price."
The Golf GTI returns in 2020 with many upgrades to previous models. It is available in two trims – S and SE. To further increase value, it now comes standard with Forward Collision Warning and Autonomous Emergency Braking with Pedestrian Monitoring (Front Assist), Blind Spot Monitor, and Rear Traffic Alert, which were only options before. Also  standard in GTI models is in-car Wi-Fi capability when you subscribe to the Car-Net infotainment system and a data plan.
The SE model also has an Autobahn Package available, which enhances the vehicle with more upscale features, such as a Discover Media infotainment system with navigation, Climatronic® automatic dual-zone climate control, Fender® Premium Audio, Adaptive Cruise Control (ACC), Lane Keeping System (Lane Assist), and High Beam Control (Light Assist).
The 2020 Volkswagen Golf GTI with a standard six-speed manual transmission starts at an MSRP of $28,595. Should you choose the seven-speed DSG® dual-clutch automatic transmission with Tiptronic®, MSRP starts at $29,395. All Golf GTI models have a destination charge of an additional $920.
The 2020 Volkswagen Jetta GLI is available in two trim levels: S and Autobahn. The Jetta GLI also adds the next-generation Car-Net telematics system, and all models are equipped with in-car Wi-Fi capability when you subscribe to a data plan. Autobahn models add standard wireless charging and the DCC® adaptive damping system for the 2020 model year, along with an optional Black Package which includes 18-inch black aluminum-alloy wheels, a black roof, black mirror caps, and a black spoiler.
MSRP for the Jetta GLI with 6-speed manual transmission starts at $26,245. The 7-speed DSG dual-clutch automatic transmission starts at $27,045. Destination charges for all Jetta GLI models is $920.
Both the Golf GTI and Jetta GLI are featured in Car and Driver's January 2020 "10Best" issue, and available right now wherever magazines are sold. Find out more information about the list online at http://caranddriver.com/10best2020.  If we don't already have these in stock by the time you read this, we'll have them very soon.  Either way, contact us to set up a test drive today. We look forward to showing the Olathe, KS and greater Kansas City community two of the "10Best!"